This tour covers two Central Asian countries – Uzbekistan and Turkmenistan, each unique in its way. Uzbekistan will undoubtedly impress you with its world–famous historical cities of Khiva, Bukhara and Samarkand, with their unique architectural complexes striking imagination of everyone, whereas Turkmenistan will excite you with one of the most extraordinary and mysterious phenomena in the World – the Darvaza gas crater, which is called by the locals as "The Door to Hell", which you will never forget!
Day 1: Arrive Tashkent (Uzbekistan)
Arrive in Tashkent, the capital of the Republic of Uzbekistan.
Meeting at airport. Transfer to hotel. Accommodation at hotel. Overnight at hotel.
Day 2: Tashkent
The history of Tashkent is almost 2000 years old, and for this period the city passed a long way from small settlement to the metropolitan center. Nowadays, Tashkent is one of the most important industrial, financial and cultural centers not only in Uzbekistan but also all over Central Asia.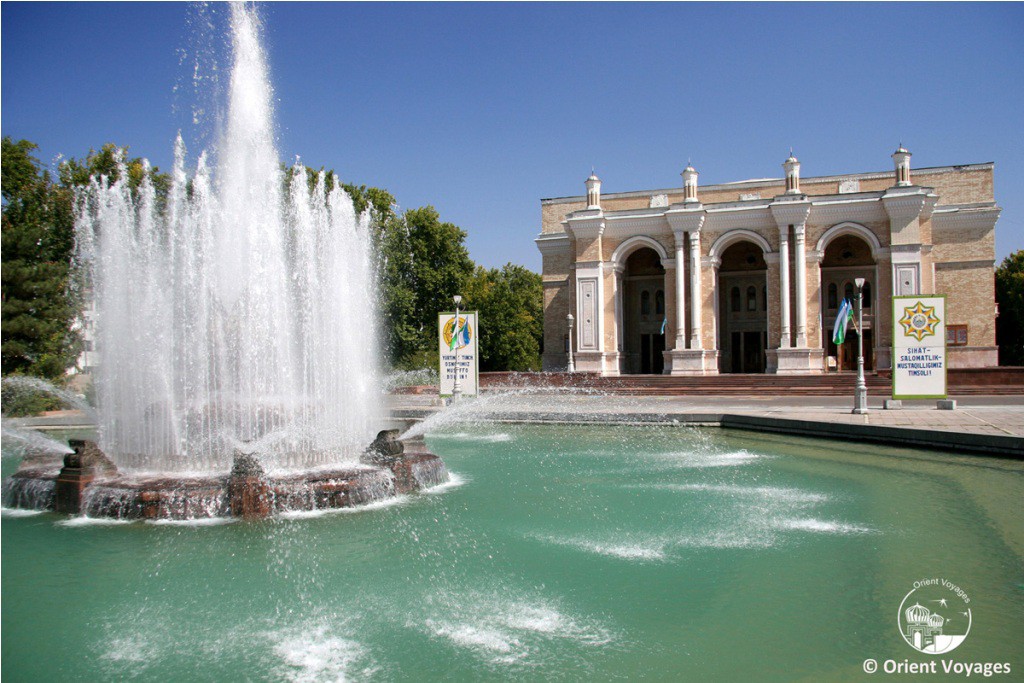 Start exploring Tashkent: the Museum of Applied Arts (built at the end of the 19th c. by the local craftsman); Independence Square, Earthquake memorial; continue on, view Khast Imam Square - the holy heart of Tashkent and the least Sovietized part of the city consisting of Barak Khan Madrassah (was founded in the 16
th
century by a descendant of Tamerlane who ruled Tashkent for the Shaybanid dynasty, Tillya Sheykh Mosque (built in the same time as Barak Khan Madrassah, now serves as the district's Friday Mosque and Kafal Shashi mausoleum (The grave of a local doctor, philosopher and poet of Islam who lived from 904 to 979; Tashkent metro (each marble made station is decorated by different artists). During the city tour, we visit the Ceramics School "Usto-Shogird" founded by world famous ceramic masters of fifth and sixth generation Akbar Rakhimov and his son Alisher Rakhimov.Overnight at hotel.
Day 3: Tashkent – Urgench/Khiva
Transfer to airport for flight to Urgench. Arrival and transfer to Khiva - the last capital of Khorezm region.
Today explore Khiva

-
an architectural masterpiece of Central Asia, a city of palaces and splendor minarets, unique mausoleums and madrassahs. A walk in Khiva will bring you to the world of Thousand and One Arabian Nights fairytales from a long forgotten childhood.Overnight at hotel.
Day 4: Khiva – Tashauz – Darvaza Gas Crater (Turkmenistan)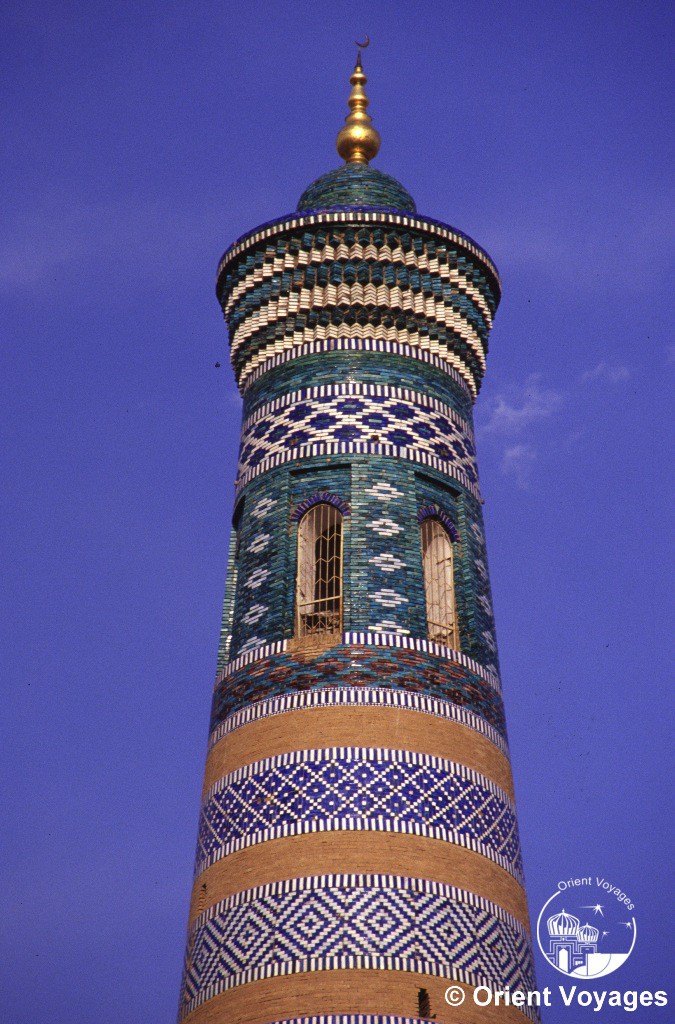 In the morning transfer to Uzbek-Turkmen border point "Shavat" (80 km/1.5 hr drive). After border formalities and border crossing
,
take over by Turkmen team. We take our 4 hour drive to Darvaza area that brings us to one of the most extraordinary sights in the world – the Darvaza gas crater, which is called by the locals as "The Door to Hell".
Overnight in tents.
Day 5: Darvaza Gas Crater – Ashgabat
Today, before departure for Ashgabat, we visit water and mud craters.
Drive to Ashgabat (app. 300 km/4 hrs drive). Arrive into Ashgabat, City of Love ("ashk" from the Arabic means "to love") – the biggest city in Turkmenistan. For almost 10 centuries, the city served as a caravan stop on the Great Silk road, until the Mongols destroyed it in 13 century. In the wake of the Mongols, the region became the prowling ground for Turkmen tribes, who never had much use for towns. By the end of 19 century Ashgabat became the major Trans-Caspian town, chosen by the Russians, and was graced with European shops and hotels. The city was even on the itinerary of a Thomas Cook tour. Ashgabat today is a completely modern creation.
This afternoon panoramic city tour including: Park of Independence, Rukhnama statue, Earthquake Monument, Palace Square, Arch of Neutrality. Overnight at hotel.

Day 6: Ashgabat
Today we visit Ashgabat's pride – the National Museum of History. Then we drive 18 km west of Ashgabat to visit archaeological site of Old Nissa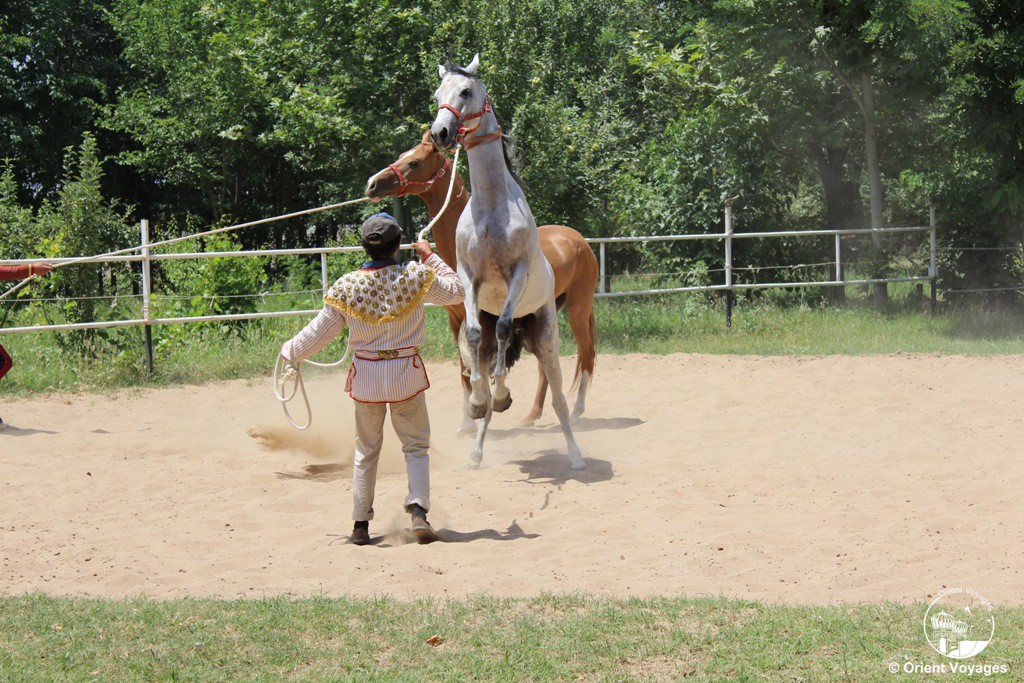 which was the capital of Parthian Empire which existed more than 2000 years ago (III x. B.C. – III c. AD).
Further proceed to Geok Tepe (app. 50 km) to visit local private horse farm of Alisher Geldiev. Born on the Turkmen land, Ahalteke horse is a symbol of a striking harmony, beauty, gracefulness and incomparable swiftness given to it by nature and developed by the labor and mind of a man. The Akhal-Teke is the national emblem of Turkmenistan and are thought to be one of the oldest surviving horse breeds in the world.
On the way back to Ashgabat, visit to Turkmenbashi mausoleum in Kipchak. Overnight at hotel.


Day 7: Ashgabat – Mary (Merv)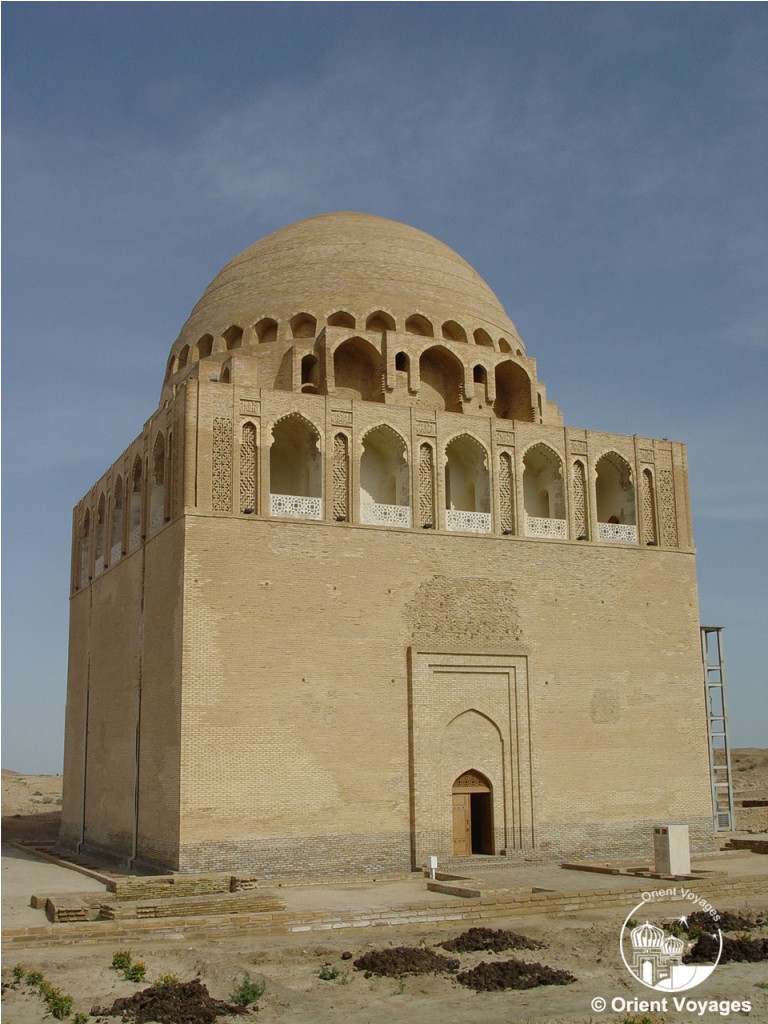 Transfer to the airport for morning flight Ashgabat/ Mary. Upon arrival, excursion to Ancient Merv

(40 km away), which was once one of Central Asia's greatest cities, flourishing with the wealth provided by its favorable location on the trading hub of the Silk Road (30 km east of Mary): Gaur Kala, Kyz Kala, Yigyt Kala, Sultan Sanjar Mausoleum. Return to Mary. Visit to Mary Museum of History Ethnography – a home to archaeological finds from several excavation sites located in the oasis of Mary, displaying Turkmen carpets, finely embroidered items of silk, silver jewelry, nomadic household tools and a yurt. Overnight at hotel.

Day 8: Mary – Turkmenabat – Bukhara (Uzbekistan)
Depart for Turkmen-Uzbek border point "Farab" (290 km/app. 4-5 hrs drive), via Turkmenabat. Border crossing, after passport and customs clearance take over by Uzbek team. Transfer to Bukhara

(110 km/1.5-2 hrs drive). Arrival and accommodation. Overnight at hotel.
Day 9: Bukhara
Architectural heritage of Bukhara is really very rich – caravan-sarais and trading domes, public baths and big pools, defensive walls and city gates, khanakas and mausoleums, mosques and madrassahs, individual structures and big complexes. Decorative methods, splendor designs and original ideas of architects strike the imagination of anyone: the Citadel Ark – highest point in the city; the Samanids Mausoleum considering a masterpiece of Central Asian architecture; the local bazaars housed in the restored 'trading domes' of the 14th to 17th century; Lyabi-Khauz Complex, Magoki-Attari mosque (XII c., XVI c.); and the Poi-Kalyan Ensemble, the symbol of the city; trading domes consists of three trading centers: Tok-i-Zargaron (1570) – Jeweler's bazaar, Tok-i-Tilpak Furushon – Cap Maker's Bazaar, Tok-i-Sarrafon – Moneychanger's Bazaar; Ulugbek's madrassah (XV c.), Abdulaziz-khan madrassah (XVII c.).
Overnight at hotel.
Day 10: Bukhara – Samarkand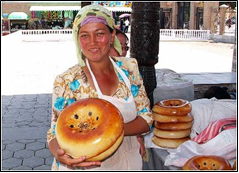 Depart for Samarkand

(300 km/4-5 hrs drive). Approaching Samarkand (app. 30 km away), we stop in a local village and visit the locals, get acquainted with their life, their small private farming. Bread baking process, followed by lunch with the family.
Then we visit memorial complex of Imam Al-Bukhari (app. 10 min). Now it is a center of pilgrimage for Muslims and tourists from all over the world. Creative legacy of Al-Bukhari has always been the source of wisdom for scientists all over the world.
Proceed to Samarkand (app. 30 min drive). Arrival and accommodation at hotel. Overnight at hotel.
Day 11: Samarkand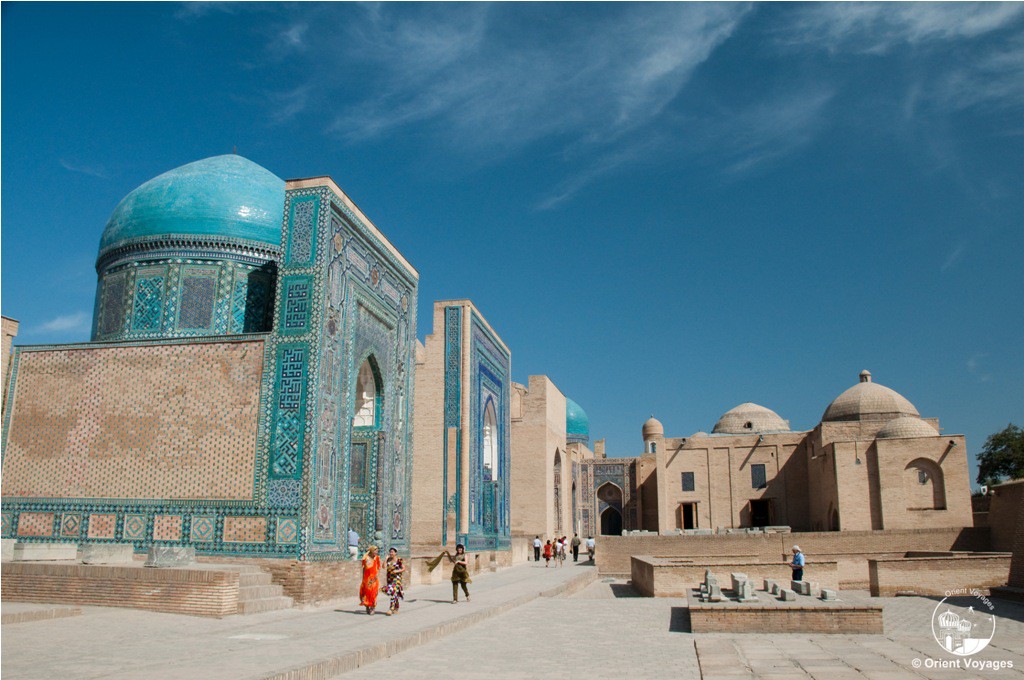 Samarkand, the city which has marvelous and attractive power. Poets and historians of the past called it "Rome of the East, "The Pearl of the Eastern Moslem World".FD SS tour of Samarkand: Registan Square (meaning "sandy place") became an official centre of Samarkand since Tamerlane the Great's time. The Square is surrounded by the Ulugbek's madrassah (1417-1420), the Sher-Dor madrassah (1619-1636), and Tilla-Kori madrassah (1646-1660); Mosque Bibi-Khanum (named in hohor of Timur's eldest and favorite wife); Siab bazaar,; Necropolis Shakhi-Zinda and ensemble of mausoleums of the 11th-19th centuries (According to the legend, the ensemble was erected around the grave of Kussam, a son of Abbas and cousin of Mohammed); Gur-Emir Mausoleum (graves of Tamerlane and his descendants, 15c). Overnight at hotel.
Day 12: Samarkand – Tashkent
Continue to explore Samarkand: Afrosiab museum of the city foundation; Observatory of Ulugbek (Ulugbek, Timur the Great's grandson, was the founder of the unique constructions of the observatory (1428-1429); a visit to Samarkand Handmade Silk Paper Center "Meros" which has revived the ancient tradition of paper making and reintroduced Samarkand Paper to the world.
Depart for the train station, to get on high-speed train "Afrosiab" Samarkand/Tashkent.
Arrive in Tashkent. Transfer to hotel, accommodation. Overnight at hotel.
Day 13: Tashkent – Daparture
Transfer to airport for International flight.