Show all
Hide all
Day 1 Arrival to Nur-Sultan Kazakhstan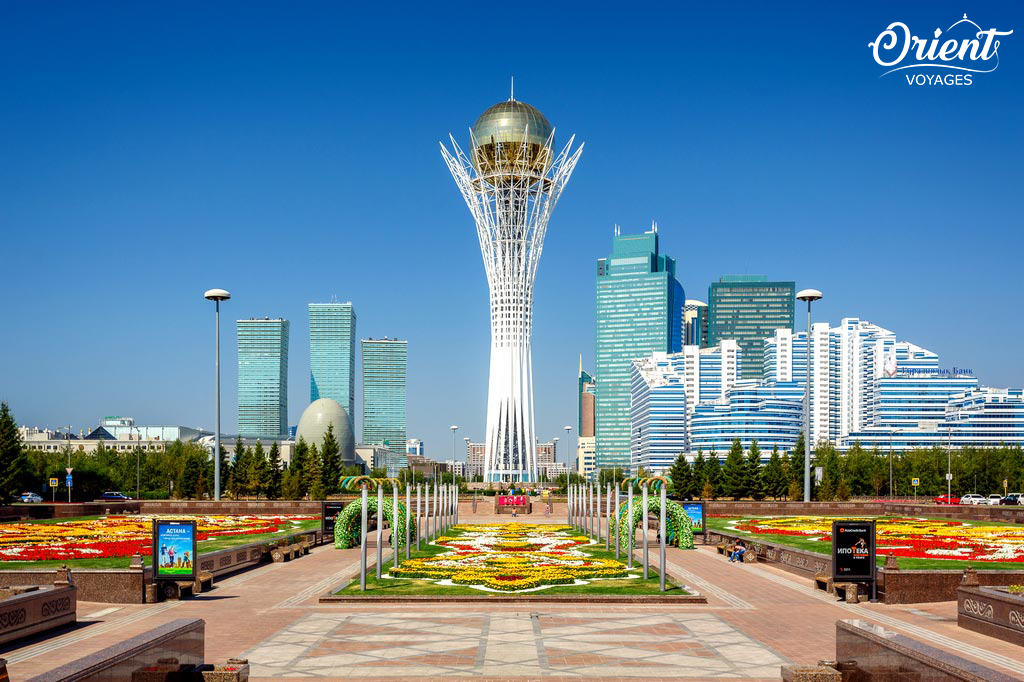 Arrive in Nur-Sultan.
Meet local guide and driver, transfer to the hotel.
Day 2 Nur-Sultan-Almaty (night train)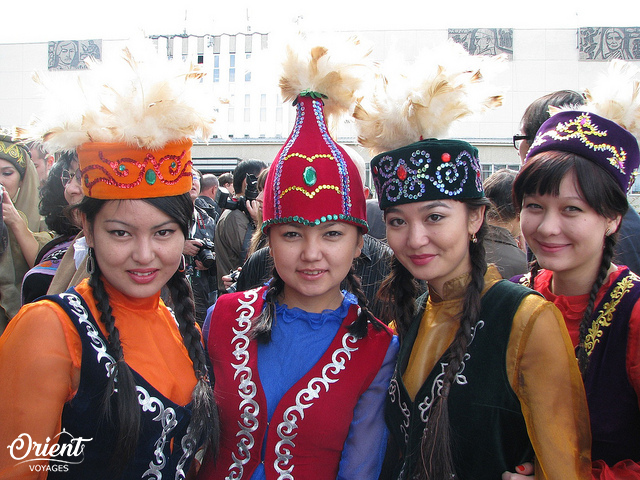 Start excursion, which includes: visiting of
Bayterek tower
;
Khan Shatyr
- another bright attraction of
Nur-Sultan
a huge city's shopping and entertainment center.
The second part of the excursion will include visiting of
Khazret Sultan mosque
. "Hazrat Sultan" is translated as "Apostolic Sultan". Visit
Palace of Peace and Accord
, built in a form of a regular tetrahedron. People assign an epithet the "Eighth Wonder of the World" to this pyramid.
Have a walk through
Independence Square
to
National museum of Kazakhstan
(closed on Mon).
Night train to Almaty. Overnight in train.
Day 3 Almaty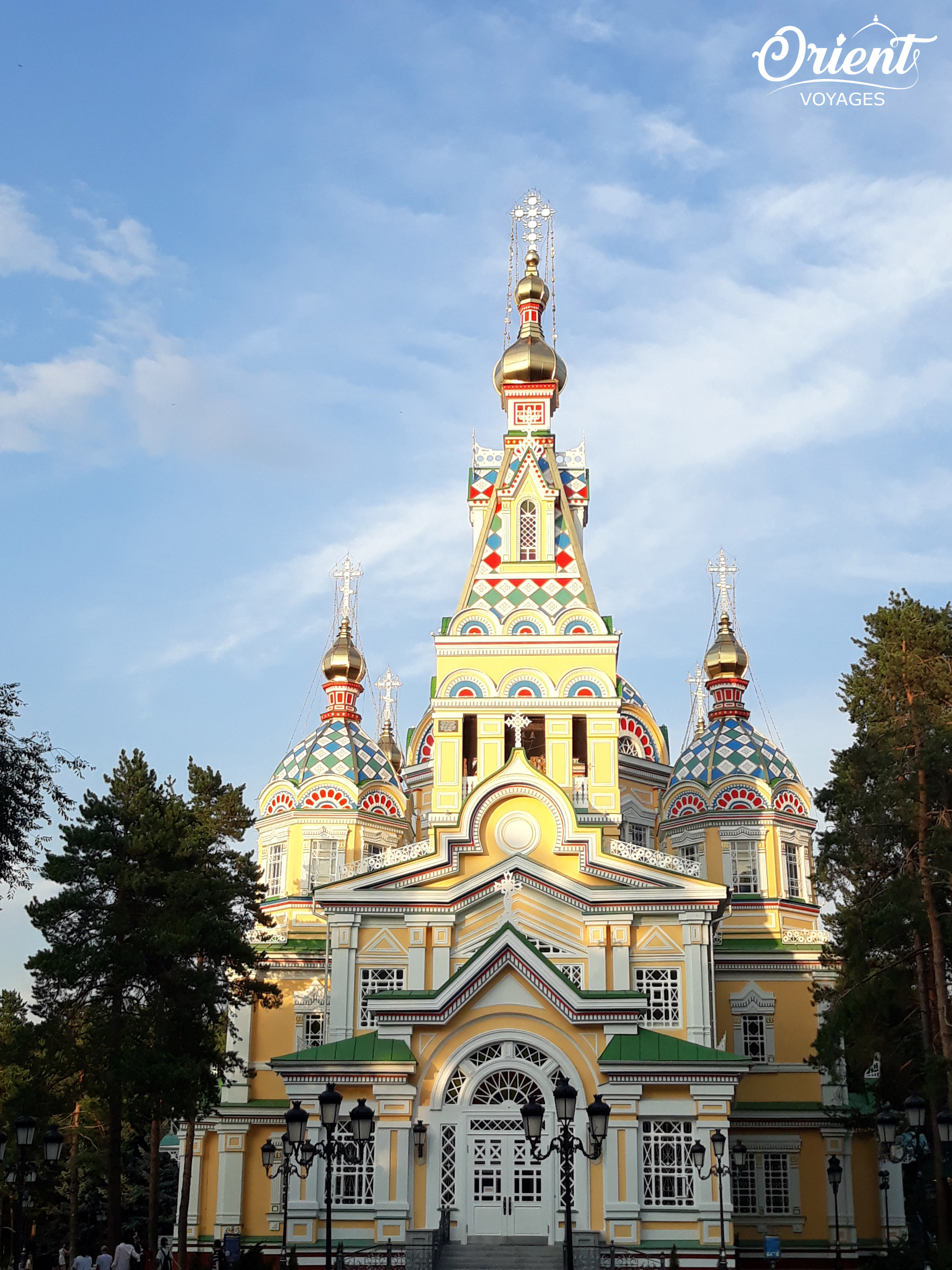 Arrive in Almaty at 10:54.
Upon arrival start city tour of the city: Have a walk to
Panfilov Park
, where you will see one of the unique wooden buildings in the world –
Zenkov Cathedral
and also visit the Museum of National Musical instruments (except Mon) and Memorial of Glory and Eternal Flame. Visit to
Green Bazaar
(closed on Mon) and local chocolate shop Rakhat.
Have a walk along Arbat and Panfilov streets, which are a popular area and nice place to visit when traveling to Almaty, as it's filled with artists selling their works of art of local landscapes, giving a good representation of the beauty of Kazakhstan.
After the city tour visit to
Medeo Gorge
- the highest mountain complex for winter sports in the world. You will find amazing nature, clean mountain air, walks at the most favorite skating rink of Almaty' residents, and the cable car up to the ski resort of
Shymbulak
.
Overnight at hotel.
Day 4 Almaty - Charyn Canyon – Saty village (Kolsai Lakes)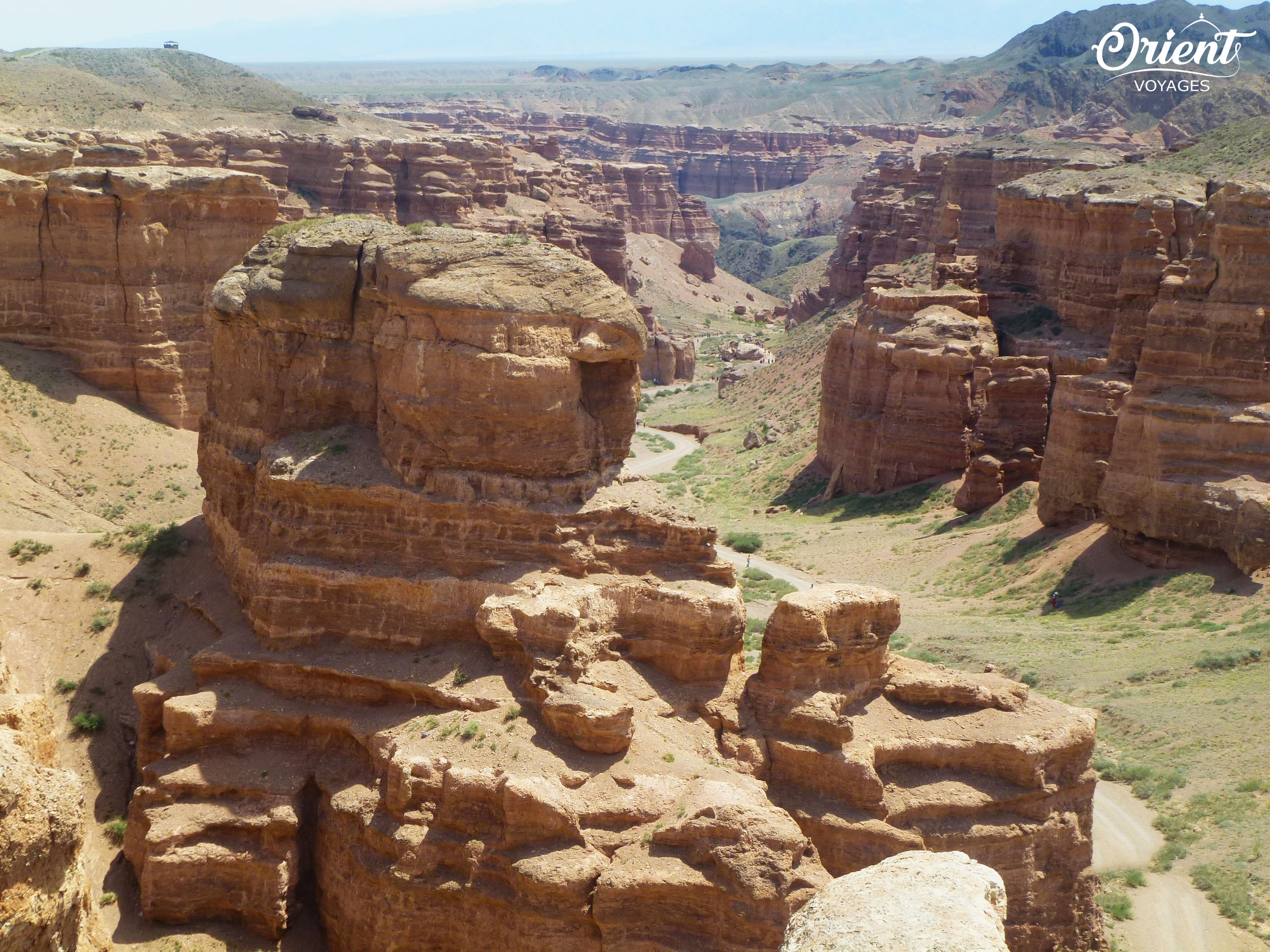 Early morning transfer from Almaty to Saty village (315 km, 5 hrs). On the way visit
Charyn Canyon
. The length of the Red canyon is about 3 km, width from 20 up to 130 m, depth up to 100 m. It involuntarily this creation of nature can be compared with "The Grandcanyon" on the Colorado River in the USA. Landscapes have external similarity, but the canyon in the Northern America has length of 800 km, at depth from 1200 up to 1800 m. Up on arrival, have a walk along the canyon.
Lunch at the canyon.
Continue drive to Kolsay Koldery National Park, arrive in Saty village and accommodation at guesthouse.
Dinner
and overnight at guesthouse.
Day 5 Saty village – Kolsai Lakes – Saty village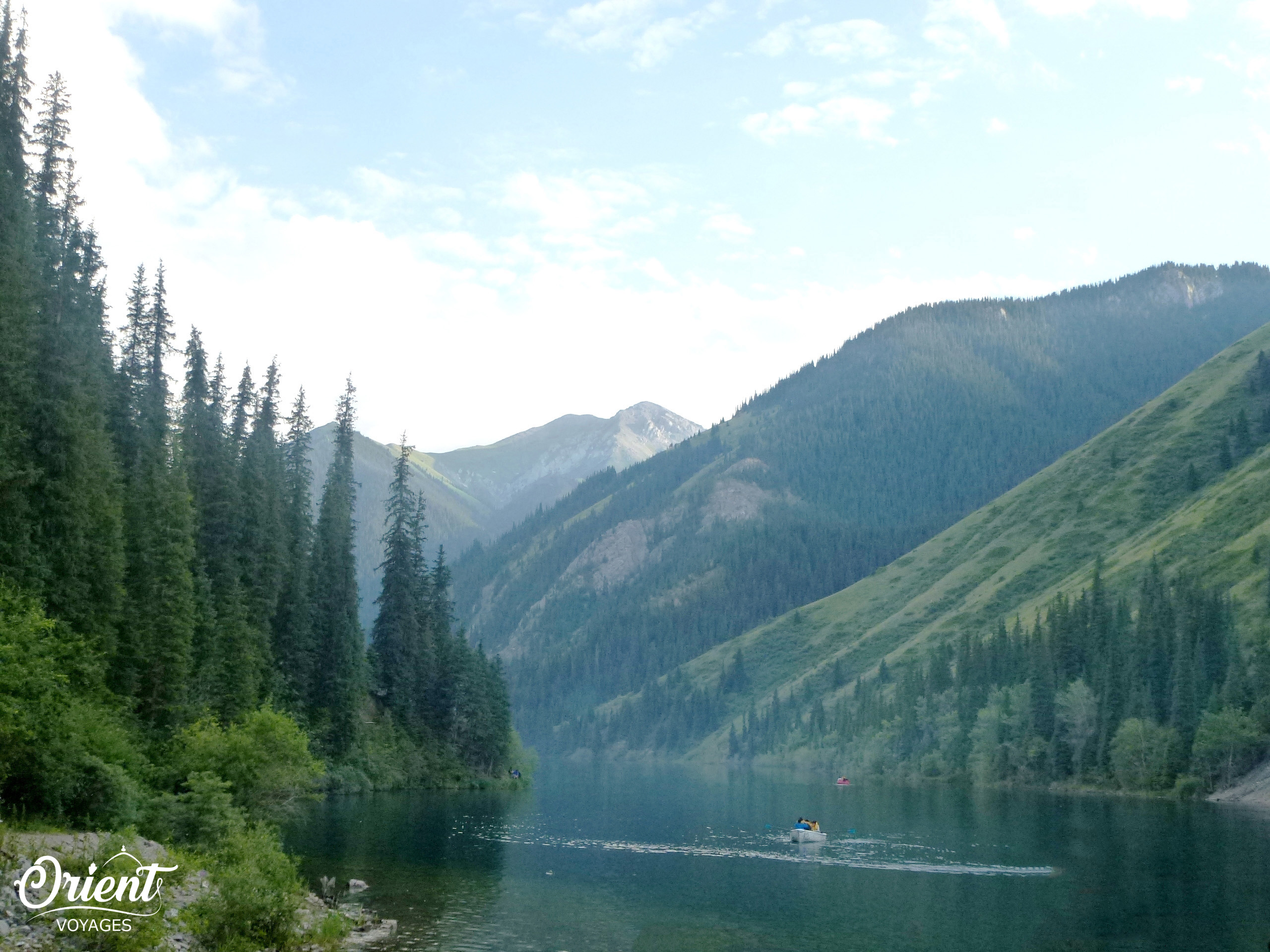 Leave for Kolsai Lakes – one of the most beautiful places in Kazakhstan. They are distinguished by the unique mountain watershed consisting of three natural zones and amazing variety of rare plants and animals.
Hiking to the Second Kolsay Lake (12 km/2 hrs. one way, be sure to have comfortable shoes). The way may be dangerous in some parts. Please, make sure, that you have comfortable shoes.
Its depth is 50 meters. A narrow mountain trail leads to the lake. Exactly this is the largest and most beautiful of the three lakes. As if rewarding travelers for a long and difficult rise, it meets them with amazing scenery: a natural dam of fallen fir trees and picturesque shores, "decorated" with alpine flowers, among which here and there snow-white edelweiss stars.
Lunch
.
Return to the parking place and drive to Saty village.
Dinner
and overnight at guesthouse.
Day 6 Saty village – Kaindy Lake – Almaty

In the morning visit Kaindy Lake by local 4WD Russian truck UAZ.
Lake Kaindy
is lost in a coniferous forest at the height of 2000 m above sea level among the Kungei Alatau Mountains. Lake Kaindy with the length of 400 m and depth of almost 30 m was formed as a result ofnatural disaster: a gorge was flooded with water, which formed natural gates in the very center of the lake.
Return to Saty village.
Lunch
.
In the afternoon leave towards Almaty. Overnight at hotel.
Day 7 Almaty – Ashgabat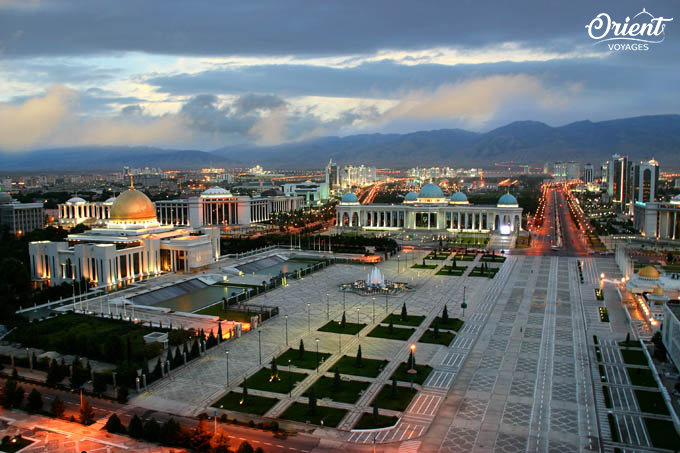 Transfer to airport for morning flight to Ashgabat. Arrival and accommodation at hotel.
Start SS tour: drive westward to
Nisa
, an UNESCO cultural heritage site with diggings have revealed a grandiose architectural complex consisting of ceremonial hall, treasure house and residences.
Visit local
horse stable
and see the Turkmen Ahalteke horses, a very old breed of horses which is about 5,000 years, which is part of the sovereign Turkmenistan's national emblem.
Visit
Turkmenbashi spiritual mosque
in Kipchak. Return to Ashgabat.
Continue SS tour of the city:
Arch of Neutrality, Park of Independence, Ruhnama statue, Palace Square, Ertoglyzgaly mosque, Earthquake monument.
Overnight at the hotel.
Day 8 Ashgabat – Nohur – Ashgabat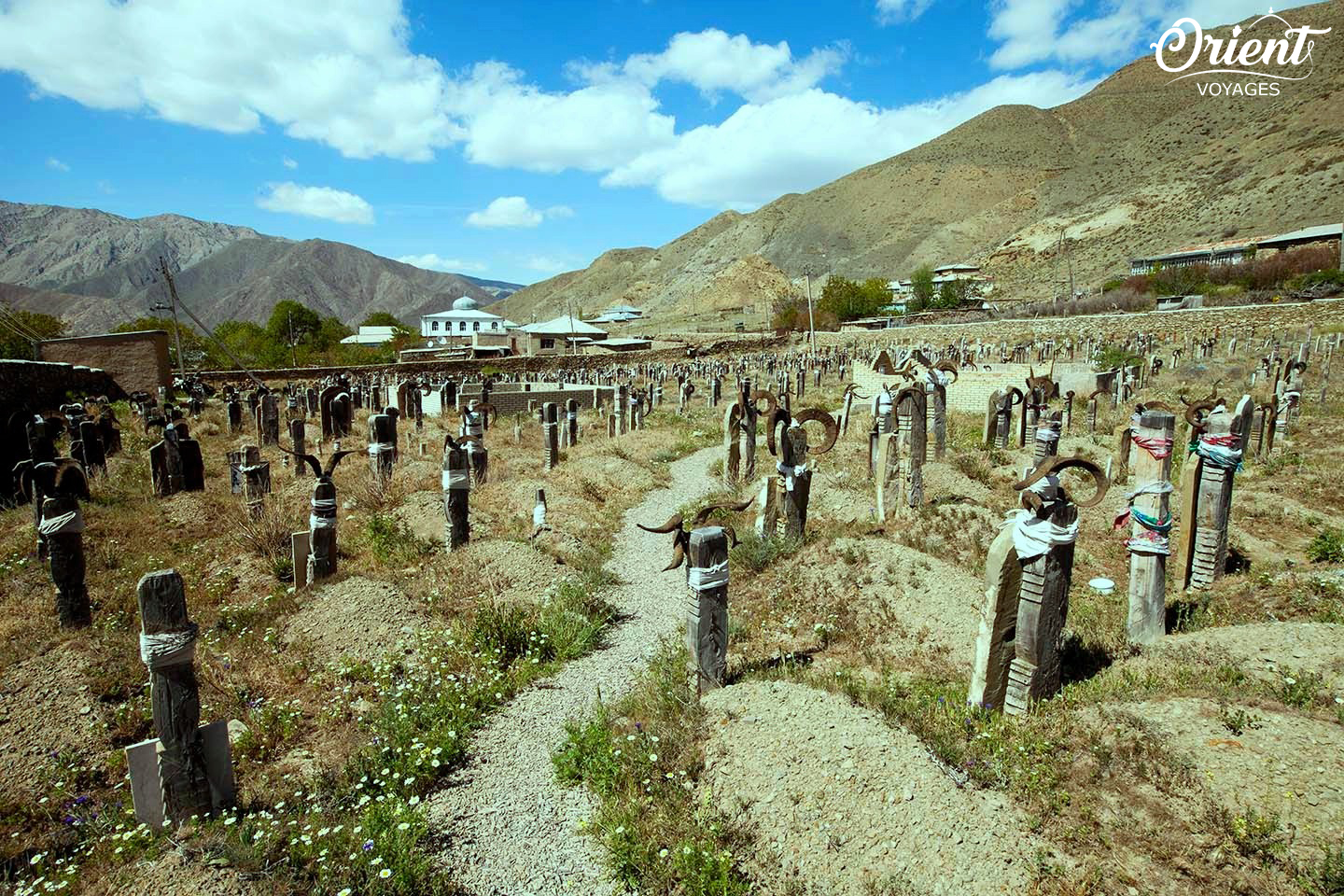 Drive to Nohur (180 km). On the way visit the unique natural monument,
the
Kov-Ata
(100 km), a deep cave in the belly of the mountain with the underground lake on the thermal spring. Picnic lunch.
Arrival in
Nohur village
, visit silk weaving and tribal cemetery.
The Nokhuris – mountain tribe, have always considered mountain goats sacred animals for their strength and endurance. The reverence of mountain goats clearly predates Islamic traditions, and though today the Nokhuris are devout Muslims, this part of their ancient belief system has continued to survive.
Drive back to Ashgabat. Overnight at hotel.
Day 9 Ashgabat – Tashauz (Kunya Urgench) – Ashgabat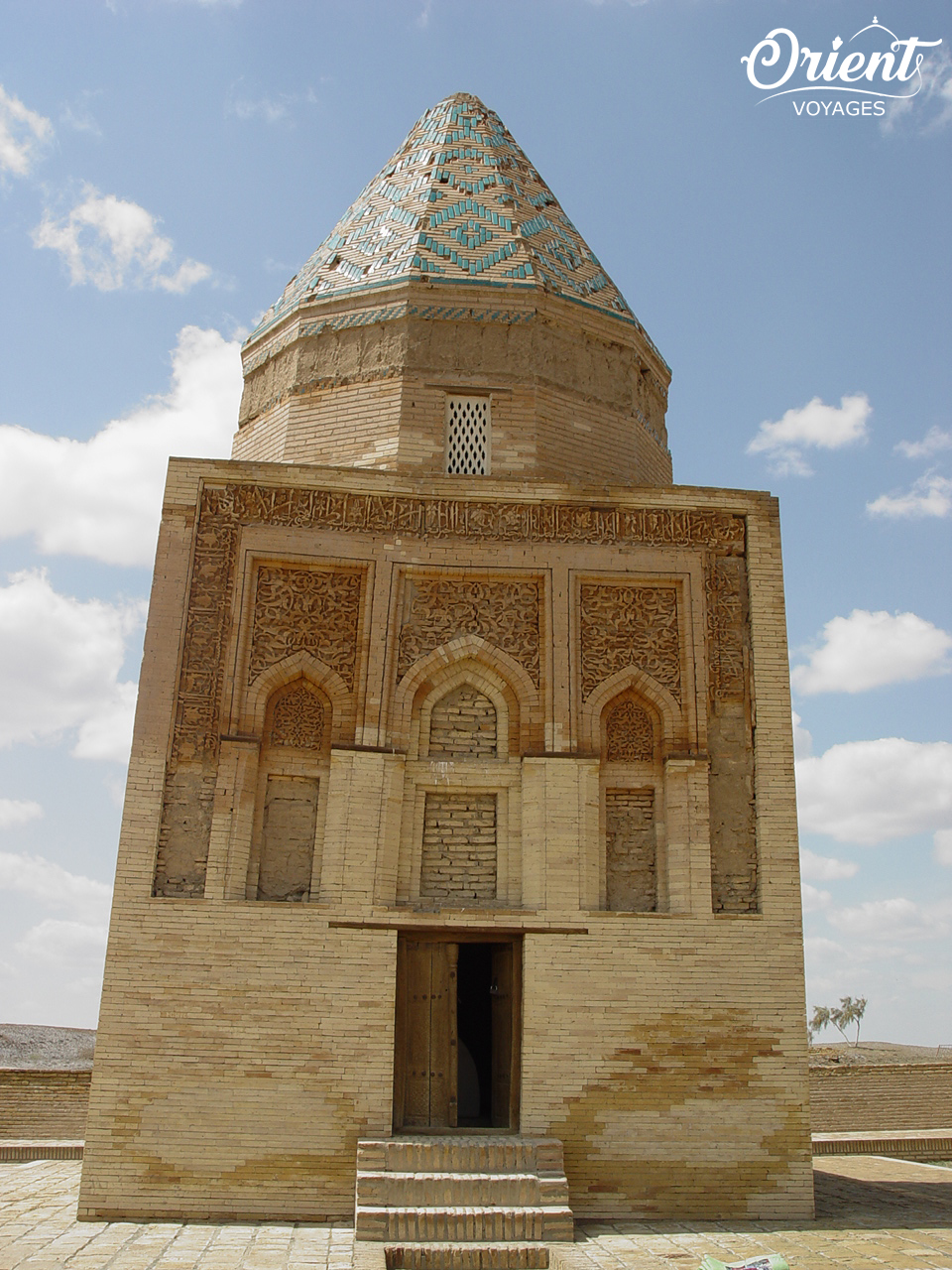 Transfer to airport for to Tashauz.
Arrival and drive to
Kunya Urgench
, one of the most ancient cities located on the territory of Turkmenistan and the whole Central Asia. Visiting Najmeddin Kubra mausoleum, the mausoleum of the founder of Sufi sect; Turabek-Khanym mausoleum, the mausoleum of the Mongol princess; Kutlug Temir minaret, the tallest minaret in Central Asia; Sultan Tekesh mausoleum - one of a few survived monuments of pre-Mongol Urgench; Arslan II mausoleum, the oldest construction of the city, dates back to XI c. and is connected with Fakhr At Din Razi, a scientist who died in Herat in 1208. The oriental date of the construction of the mausoleum is somewhere in the 12th and 13th centuries.
Lunch
at local restaurant.
P.M.: Transfer to airport for flight back to Ashgabat.
Overnight at the hotel.
Day 10 Ashgabat – departure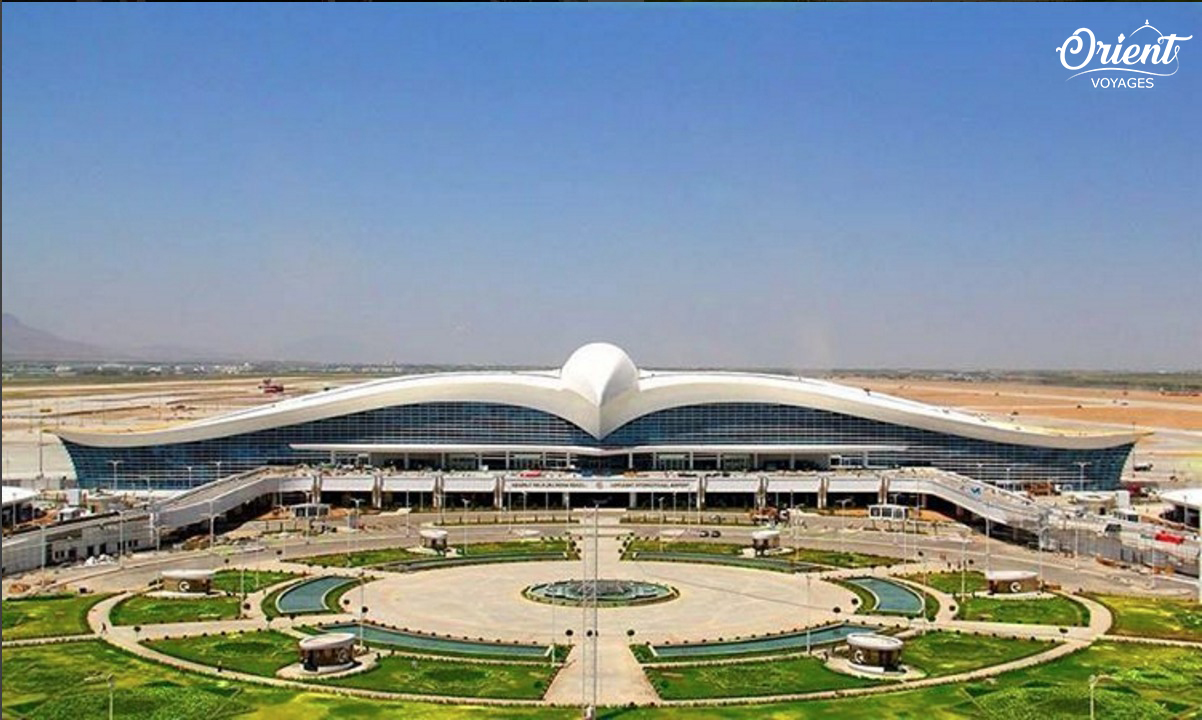 Transfer to airport for your International flight home.