Show all
Hide all
DAY 1 TASHKENT

International flight to Tashkent from your destination.
DAY 2 ARRIVE IN TASHKENT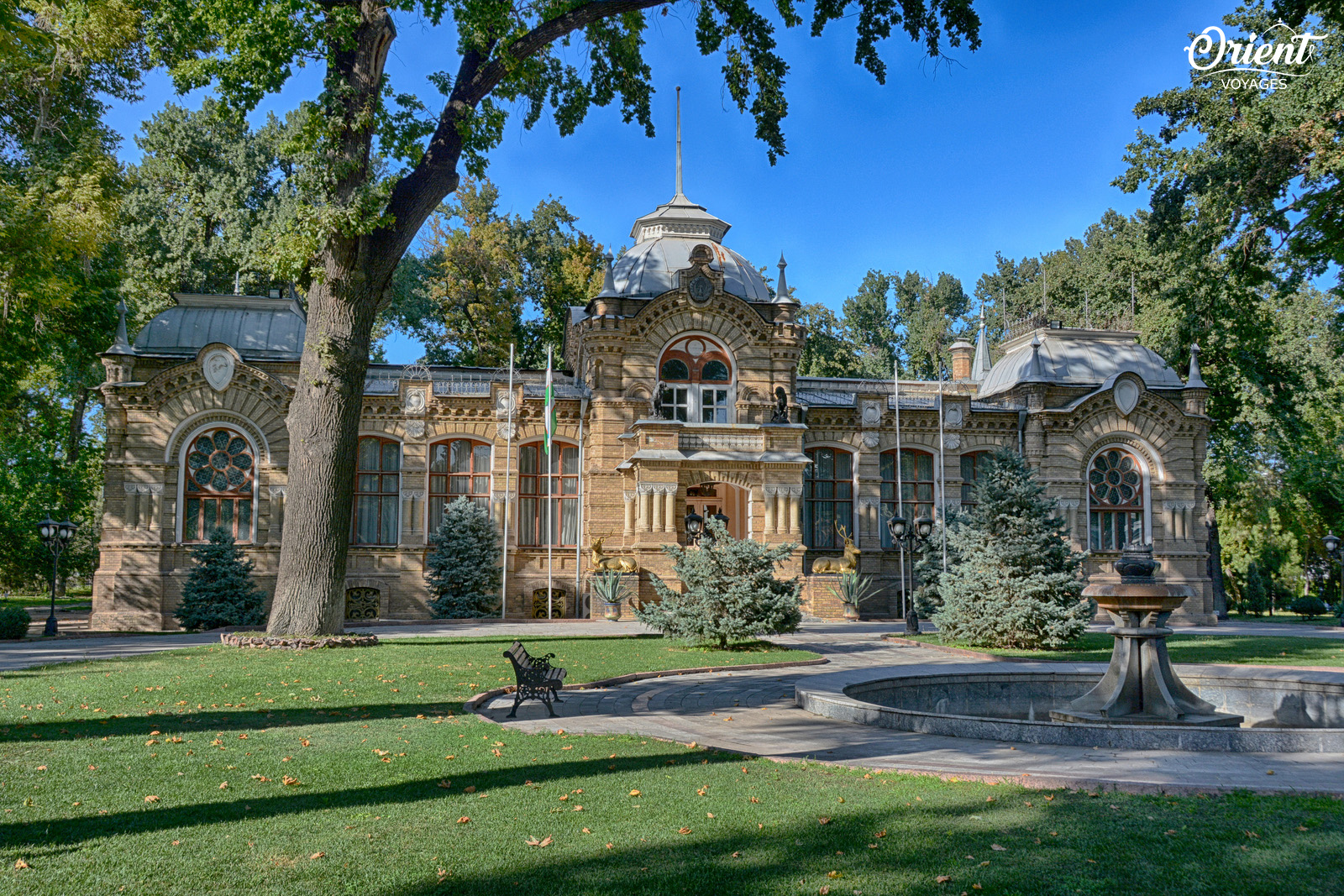 Arrive in Tashkent in the morning.
Meet at airport, transfer to a local restaurant for breakfast.
Check-in to hotel after 14:00
.
The history of Tashkent is almost 2000 years old, and for this period the city passed a long way from small settlement to the metropolitan center. Nowadays, Tashkent is one of the most important industrial, financial and cultural centers not only in Uzbekistan but also all over Central Asia.
Spend the day exploring Tashkent through the
Independence square
,
Amir Timur Square
,
Opera House Square
. Take ride through the most beautiful stations of the
Tashkent metro
. Visit to
Khast Imom
complex including Barak-khan Madrassah, the only world-known original version of Khalif Osman's Koran dated from 7th century is kept here in the library of Mui-Muborak Madrasah, visit to
Chorsu bazaar
(closed on Mon) in the old city and to
Kukeldash madrassah
. Visit to the
Museum of Applied Arts
, housed in the ancient palace of tsarist diplomat.
Overnight at hotel.
DAY 3 TASHKENT – URGENCH – KHIVA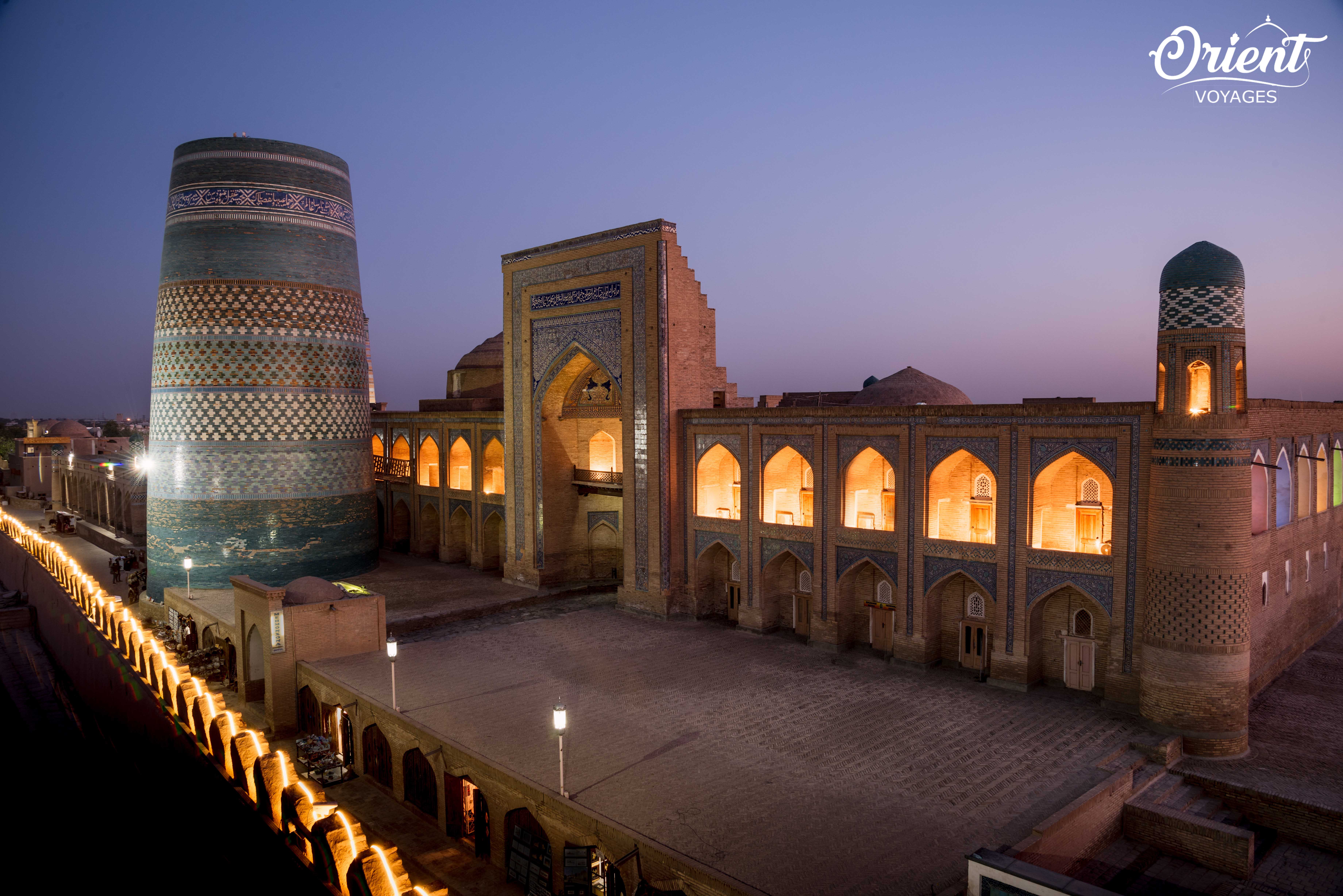 Transfer to airport for morning flight to Urgench.
Upon arrival direct drive to Khiva (40-50 min drive). Arrive in Khiva.
Check-in to hotel after 14h00
Walking tour in
Ichan Kala,
architectural complex of the inner city, surrounded by the large fortress wall with four gates. There more than sixty architectural monuments: palaces, mosques, madrassahs, minarets and mausoleums inside are the inner town: Muhammed Aminkhan Madrassah and its minaret; Kunya Ark and Juma Mosque with 218 pillars (one of the most ancient structures in Central Asia; Tash Khauli palace (the Harem of Khiva Khans); Mausoleum of Pakhlavan Makhmud; Islam Khodja complex and other monuments.
Overnight at hotel.
DAY 4 KHIVA – BUKHARA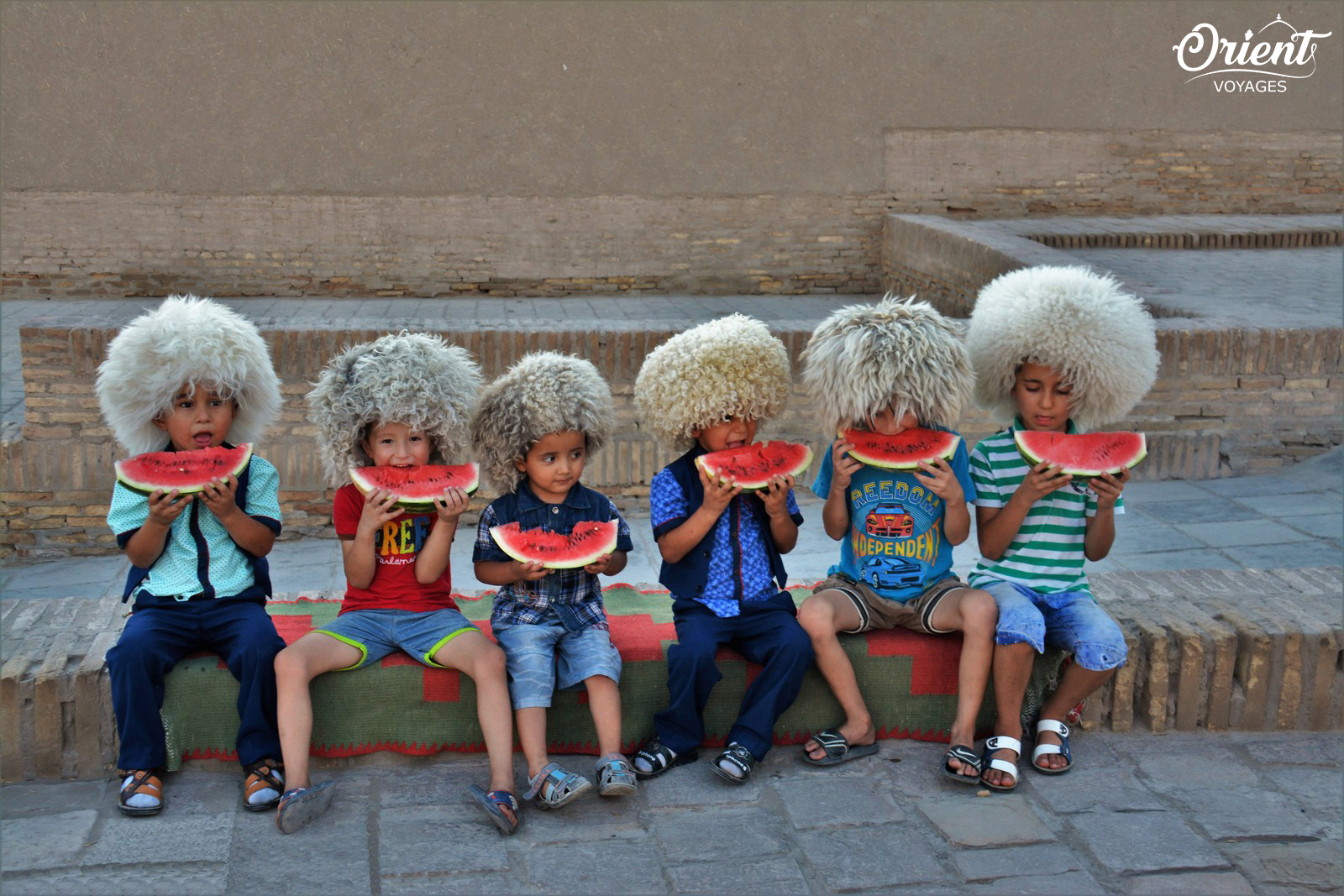 Take in the undulating landscape of Central Asia and drive to Bukhara across the Kyzylkum desert (450 km/app. 7-8 hrs). This journey presents an unprecedented opportunity to view this arid landscape, and glimpse the sheep farmers or hunters roaming across it.
We arrive in Bukhara in the early evening. Perhaps, take a stroll in the old town to stretch your legs.
Arrival and accommodation at hotel.
Overnight at hotel.
Option:
Train ride Khiva/Bukhara (08h23/13h35) on Tue, Fri, Sun
DAY 5 BUKHARA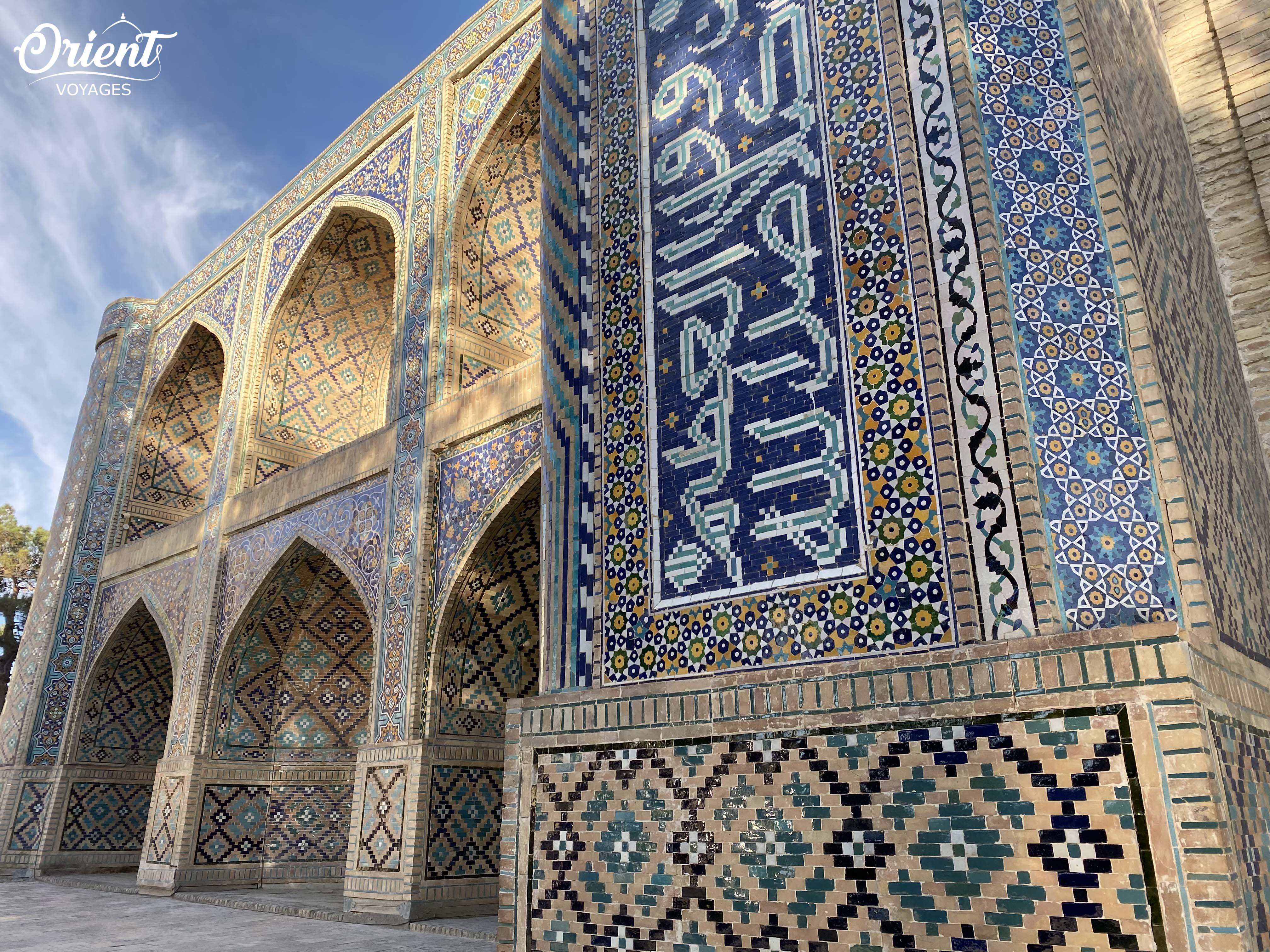 Architectural heritage of Bukhara is very rich – caravan-sarais and trading domes, public baths and big pools, defensive walls and city gates, khanakas and mausoleums, mosques and madrassahs, individual structures and big complexes. Decorative methods, splendor designs and original ideas of architects strike the imagination of anyone.
Full day tour of Bukhara:
Liabi-KhauzComplex; puppet wokshop;
walk through the
old Jewish quarter
;
Tok-i-Sarrafon
– Moneychanger's Bazaar;
Magoki-Attari mosque
;
Tok-i-Tilpak Furushon
– Cap Maker's Bazaar;
Ulugbek's madrassah
and
Abdulaziz-khan madrassah
;
Tok-i-Zargaron
– Jeweler's bazaar;
Poi-Kalyan Ensemble; Bolo-Khauzmosque
;
Fortress Ark
(citadel), a fortified residence of Emirs of Bukhara);
Chashma-Ayub shrine
known as a curative source; walk along Bukhara city wall;the
Samanids Mausoleum
, the most precious Bukhara monument dated back to the 9
th
century;
Chor Minor
, a colorful madrassah with four peculiar looking towers, which was used as a library for students.
Overnight at hotel.
DAY 6 BUKHARA – SAMARKAND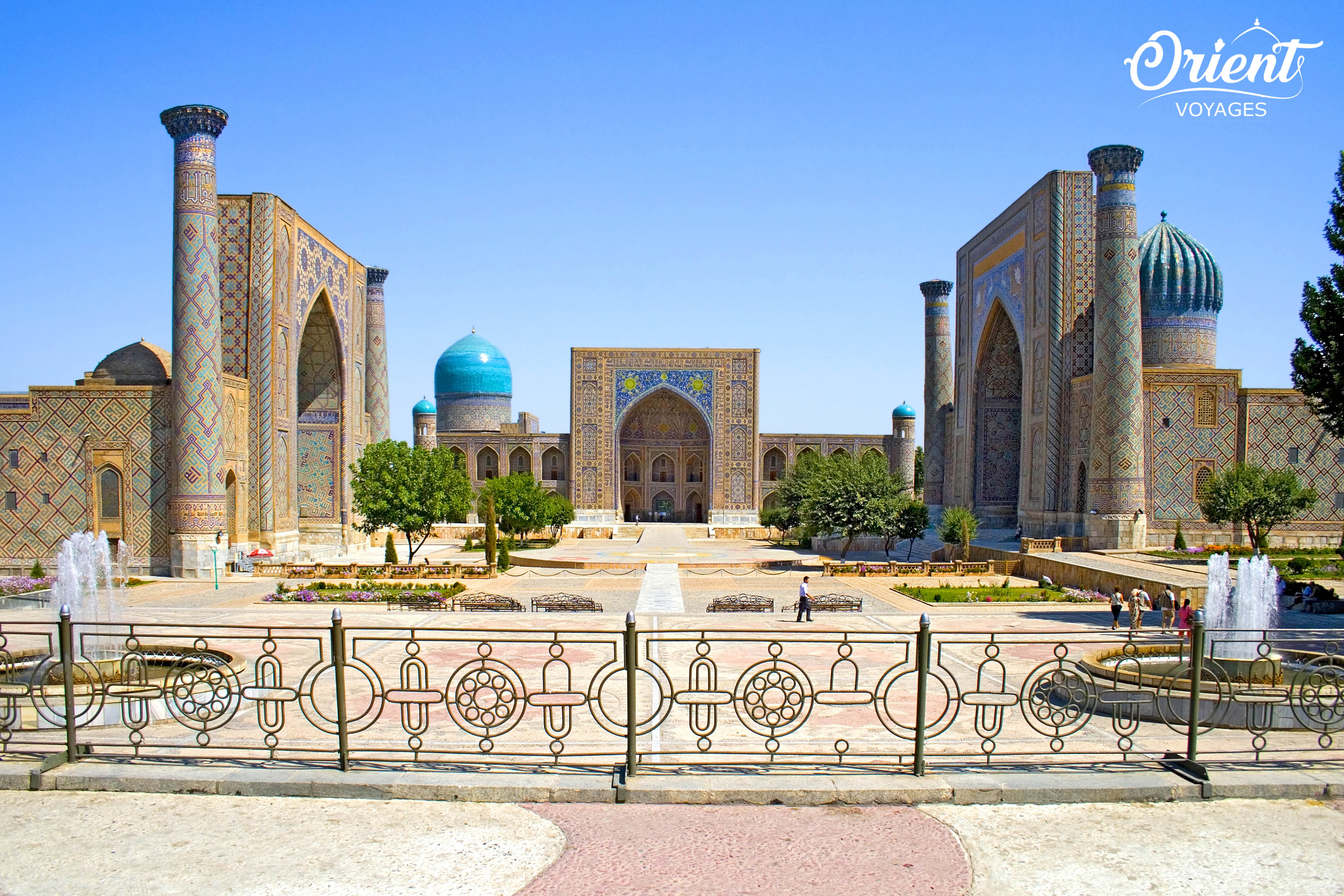 Depart for Samarkand (300 km, 4-5 hrs drive). On the way we stop in
Gijduvan
to visit family ceramic workshop.
Arrive in Samarkand, a key city on the Great Silk Road thathas witnessed a lot of upheavals during the times of Alexander the Great (Macedonian), the Arabic Conquest, Ghengis-Khan Conquest and lastly Tamerlane's. Hence, Samarkand's culture was developed and mixed together with the Iranian, Indian, Mongolian and a bit of the Western and Eastern cultures.
Today we visit world famous
Registan Square
(meaning "sandy place") that ranks first in Central Asia and among the greatest of all the grandiose and magnificent works of the Islamic world;
Gur-Emir Mausoleum
(graves of Tamerlane and his descendants).
Overnight at hotel.
DAY 7 SAMARKAND – TASHKENT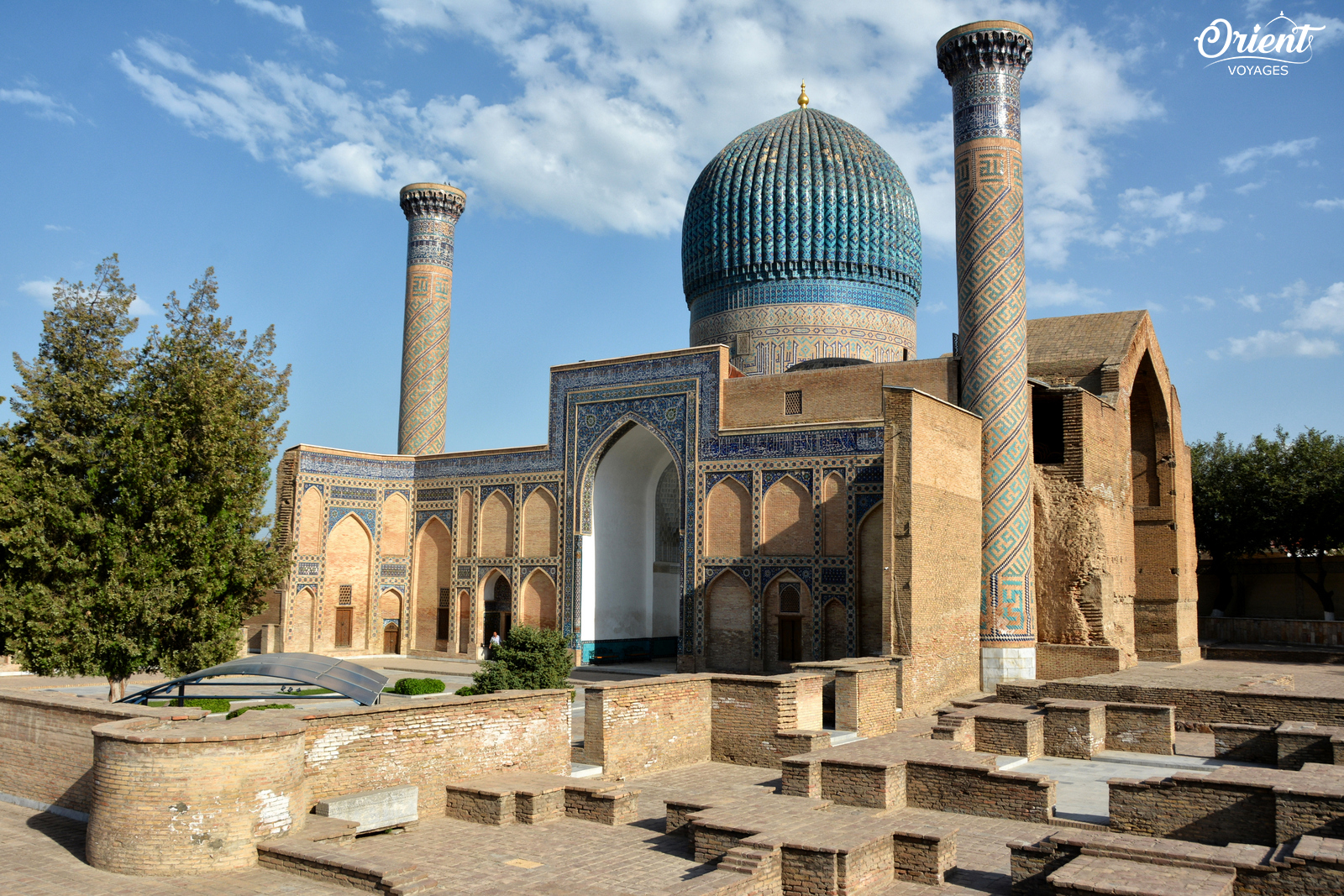 Today we continue on:
Observatory of Ulugbek
;
Necropolis Shakhi-Zinda
(The Living King) and ensemble of mausoleums of the 11th-19th centuries; visit to the impressive remnants of
Mosque Bibi-Khanum
built in honor of the ruler's eldest and favorite wife;
Siab bazaar
, the city's main bazaar (closed on Mon).
In the evening take train for Tashkent (2 hrs train travel). Upon arrival, transfer to hotel, accommodation.
Overnight at hotel.
DAY 8 TASHKENT – DEPART

Transfer to the airport for International flight home
*This tour itinerary can be adjusted accoding to your requirements and needs